Glucosamine and MSM 1kg Red Horse Products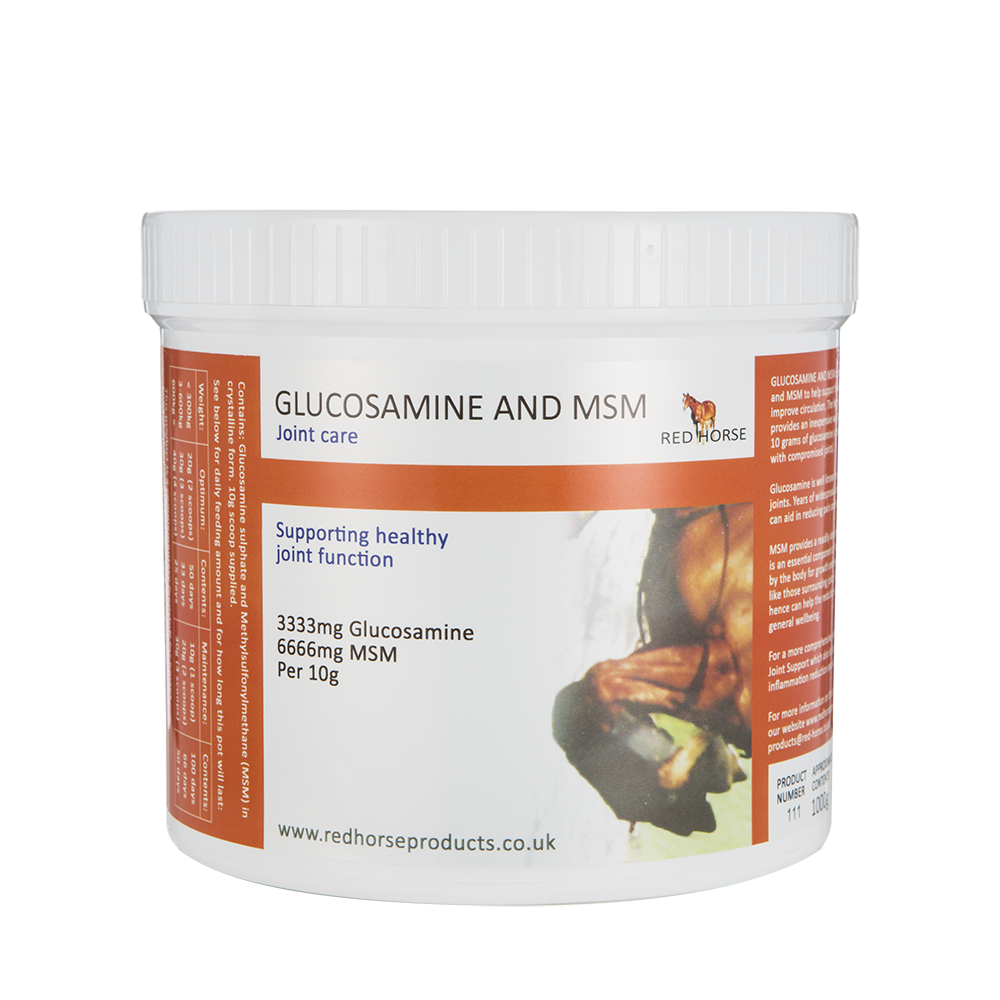 Glucosamine and MSM 1kg Red Horse Products
Joint and circulation supplement for horses
1kg
sale
Joint and circulation supplement for horses
The high-quality glucosamine and MSM in this supplement support healthy joint function and improve circulation.
Glucosamine is well known for its regenerative effect on joints and its role in reducing pain and inflammation. The high concentration of glucosamine provides an inexpensive way to administer 10 grams of glucosamine a day, which is the daily amount often recommended by vets.
MSM provides a readily absorbable form of sulphur. Sulphur is a vital component of amino acids which are essential for growth and repair of soft tissues surrounding joints. MSM promotes circulation and can help reduce inflammation and improve general wellbeing.
Ingredients
Glucosamine sulphate and methylsulfonylmethane (MSM) in crystalline form.
Methylsulfonyl Methane (66%)
Glucosamine Sulphate (34%)
Instructions
Red Horse suggests adding Glucosamine and MSM to your horses daily feed at the following rates. They recommend using the optimum amount for at least 2 weeks and then reducing to maintenance unless joints are compromised.
OPTIMUM CARE:
Weight upto 300kg: feed 20g per day or 2 scoops, 1kg will last 50 days
300-600kg: feed 25g per day or 2.5 scoops, 1kg will last 40 days
Over 600kg: feed 30g per day or 3 scoops, 1kg will last 33 days
MAINTENANCE:
Weight upto 300kg: feed 10g per day or 1 scoop, 1kg will last 100 days
300-600kg: feed 12.5g per day or 1.25 scoops, 1kg will last 80 days
Over 600kg: feed 15g per day or 1.5 scoops, 1kg will last 66 days