Twin pack fasteners LOOP FLEX by Northern well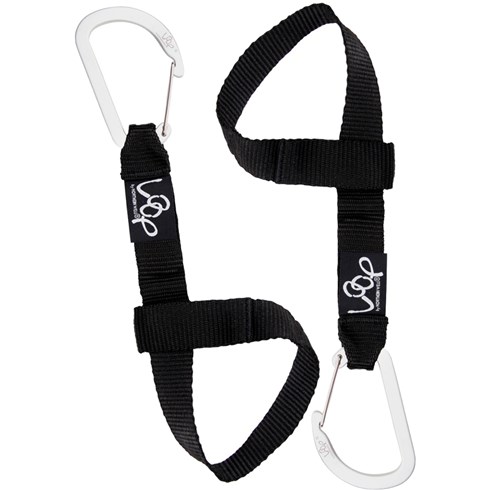 Twin pack fasteners LOOP FLEX by Northern well
Northern Wells business idea is to develop and market specially designed and innovative products, where one can hang and support items in a smooth and flexible way, without any extra tools or other attachments.
LOOP FLEX – smooth and flexible fastening of your gear in the stable, trailer and car etc
Silver or Pink
Product Description
Hang and anchor your gear easily.
In the stable, trailer, car and/or storage room, when you are camping, sailing etc
Ultralight and especially designed aluminium carabiner hook to reach around larger bars and handles. The clever strap with loops at each end can flexibly attach around bars, gratings and rings.
Its carabiner hook with its smooth design can easily attach and detach gently with no harm to your gear nor yourself.
The LOOP can be taken off and on in no time.
The combinations holds 30 kg in total.
Black polypropen strap 25 mm width and 40 cm long with a loop at each end.
Aluminium hook reaches around 25 mm in diameter and is designed by Swedish owned Northern Well
Increase and decrease length
The belt has a loop at each end. Each belt has a carabiner hook attached.

Attach two beside each other to hook together around larger things.

Make it shorter by fastening the belt around one end and the hook back up towards the start position.

Loop two belts together to make it longer.

LOOP around several bars to shorten.

Put two hooks on one belt.

Stretch the belt from one side to the other to support things to stand up towards the wall.