Red Zone Super for Humans - Red Horse Products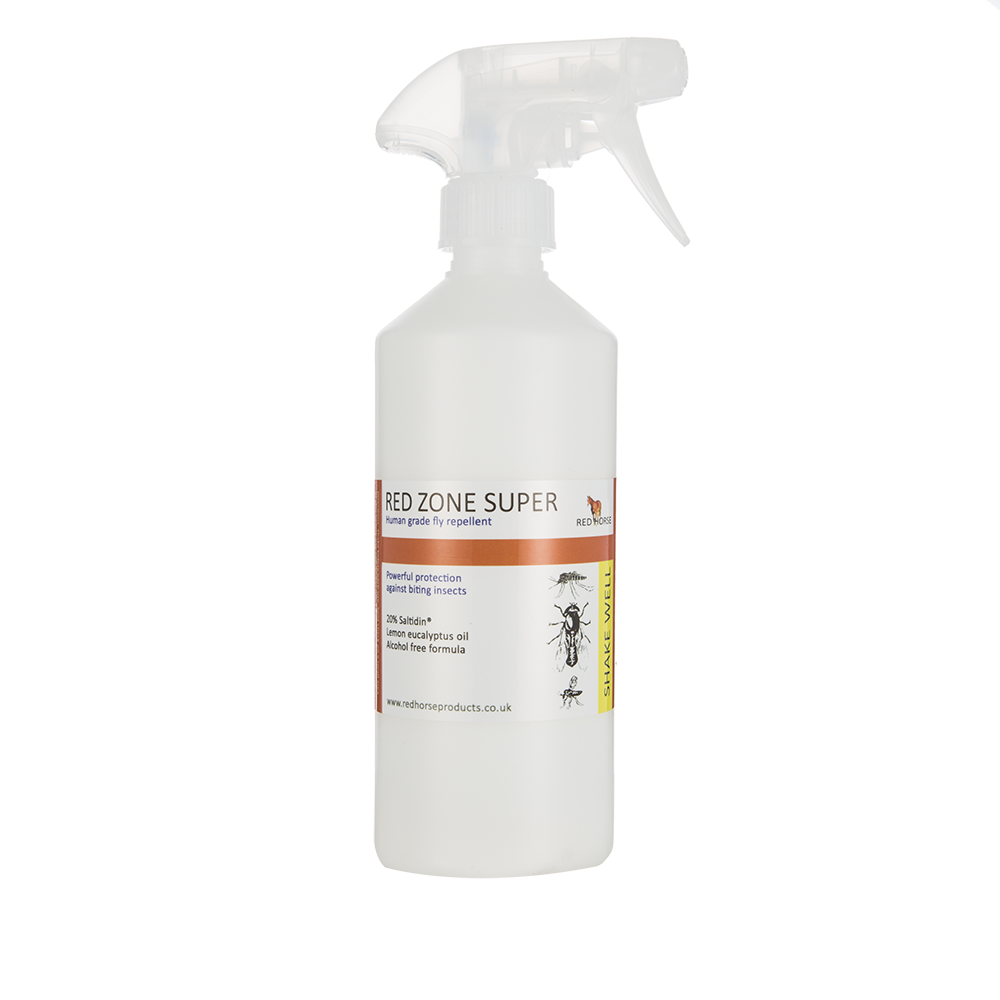 Red Zone Super for Humans - Red Horse Products
Red Zone Super is a highly effective insect repellent spray but is gentle on the skin and safe and pleasant to use.
500ml
With 20% Saltidin® (registered trade mark of Saltigo GMBH, Germany) a great new DEET alternative. With a broader spectrum, longer lasting effect and none of the nasty side effects of DEET (rotting leather and plastic, decreasing skin defences etc.) Saltidin is almost odourless, very safe and non-irritant.
Red Zone Super has proven extremely effective against midges, horse flies and most other biting pests.
Most of RHs trial participants agree that it is not only more effective than leading brands but also has a far nicer, non toxic smell!
Note: Red Zone and the active ingredients used in Red Zone are designed for use ON HUMANS
Ingredients
Water - Added to help create the right consistency.
Saltidin - A state-of-the-art synthetic insect repellent that is highly effective yet extremely safe to use.
PEG-40 (hydrogenated castor oil) - Keeps the oil ingredients mixed with the water-based ingredients.
Lemon eucalyptus oil - An essential oil to improve scent. It also has antibacterial and antifungal properties.
Cade oil - A natural insect repellent. Cade oil also has antiseptic and antifungal properties, and it is commonly used to soothe scalp and skin conditions.
Bog myrtle oil - A sweet-smelling, natural insect repellent.
Clove oil - A natural insect repellent with antibacterial and antifungal properties.
Garlic oil - A natural insect repellent with powerful antifungal properties.
FAQ's
What is the best way to use this to prevent horse fly bites?
Shake it well and especially apply to areas where you cannot see or feel the flies landing, like the back of your neck, arms and your legs. Smooth it over the skin to spread evenly.
Is Red Zone Super effective against midges/ the Scottish midge?
Yes, Saltidin is an excellent midge repellent but you will likely have to put Red Zone Super in your hair if you are not wearing a hat!
How long does an application of Red Zone Super last?
Red Zone Super has a powerful effect for around and hour and then a good residual effect for up to another 12 hours. Heavy sweating or other sources of moisture will reduce its efficacy.
I have sensitive skin, should I patch test first?
Although Red Zone Super is more gentle than most repellents we always recommend doing a patch test before wider application. This is mainly because of the essential oils in it rather than the main active ingredient, Saltidin.
Can I use Red Zone Super on animals?
Red Zone Super is not licensed for sale for animal use, neither are any Saltidin based repellents yet, but we do not know of any specific reason that it would be dangerous or damaging to animals.